Real wedding stories = Great content
Think of eeek! as a remote marketing team working on your behalf whilst also providing you with content, meaning we;
Turn your real wedding feedback into fairytale stories
Upload each story to the Eeek website, the home of wedding planning in Cornwall
Link each story to your website and social media channels
Provide you with SOCIAL MEDIA CONTENT for each wedding, sending it directly to you to share from your own social platforms
Regularly share your real weddings on our leading social media channels
Promote your business for FREE during our Social Media Advertising Campaigns
Feature you in our monthly Email Newsletter to blushing brides to be
Create a unique portfolio of your real weddings allowing your brides to be to explore endless possibilities.
How it works

Send a PDF to your chosen brides

eeek! receives the wedding stories from the brides

eeek! sources the images from the photographer
The wedding goes live on eeek!
The social media campaign begins!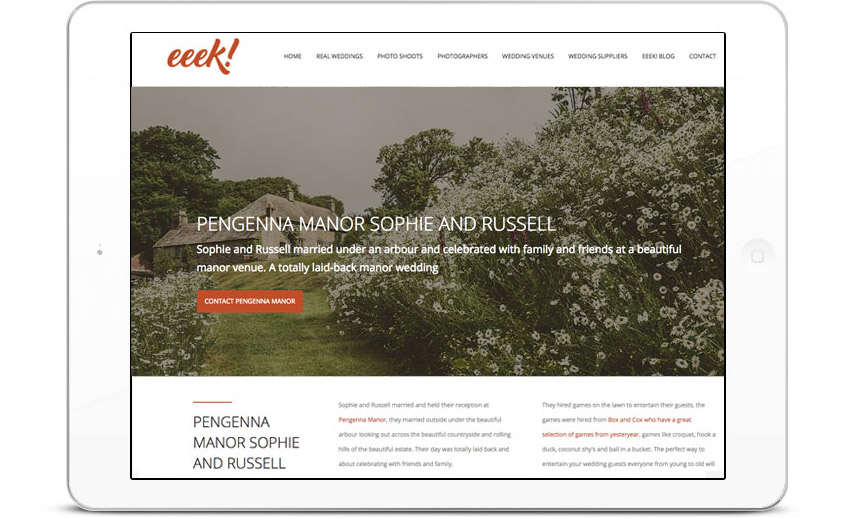 Collaboration is key
All you need to do is...
There's more!
The story and images are shared with you. Your marketing team will receive...

The wedding story

All social media names @ & # for Facebook, Twitter, Instagram

The images print web and Instagram ready
This is perfect for your own marketing
eeek! helps you with content creation. The days of not knowing what to post on social media are over, not to mention the time this will save!
Content creation will save you so much time sign up!
Pssst... nobody else offers this amazing service!
Content creation
£45
Billed quarterly
Content Creation
Optimised Page
Lead Generation
Website Link
Social Links
Social Media Campaign
Unlimited Real Weddings
Plus More