Zoe and Tom's Engagement During Lockdown
Zoe and Tom's Engagement Under Lockdown
In this guest blog, Zoe and Tom share their engagement story during lockdown. With plans to marry in 2021 the couple started saving but in these scary and uncertain times and reduction in wages; saving for a wedding has had to be put on hold.
"We could let all of this get to us, we could sit and mourn the wedding plans we once had, but we won't! We have decided to cherish all these extra days we get to spend together in our isolation bubble and who knows we may even get something practical done."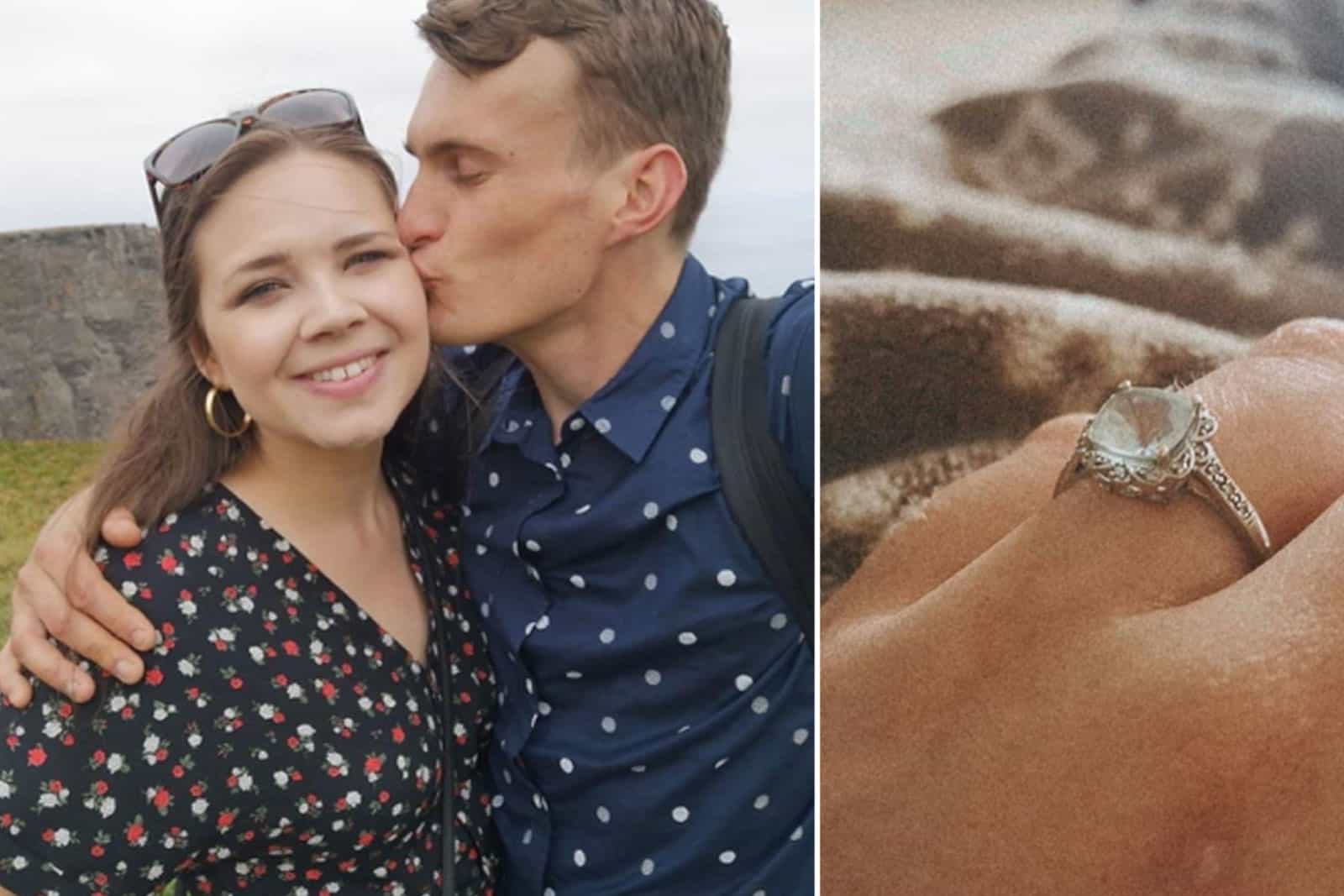 The Proposal
"On 25th August 2019, Tom proposed to me in the perfect way. He had clearly put a lot of thought into everything from the location: the clifftops near Tintagel, a place we both love that is both secluded and stunning. To the ring a vintage-style setting with an aquamarine as the stone – he had clearly remembered how much I love colour in my jewellery. The whole day was magical and for a man who can't keep a secret, he certainly managed to surprise me! Tom took the time to really consider what was important not just to me but to both of us, demonstrating once again what a beautiful soul he has.
Our Plans
On that special day, we began discussing what our dream wedding would be like. We are both outdoorsy people so it was important to us that there be outdoor elements, maybe a festival theme or something more rustic. We had some big ideas! But then it was time to come back down to earth… weddings are expensive! Who knew?! So our imaginations were reigned in and we began narrowing down what was really important: celebrating our love in a beautiful setting with friends and family in attendance. We decided we wanted to do some DIY to lower the costs and then set a budget and began saving. We were not prepared to start doing anything until we had the money in hand. We thought 2021 would be a good year to marry and set that as our goal. However, this is looking less and less likely for various reasons.
The Set Backs
With all our hopes and dreams and plans set out we began saving. But fate seems to have had other ideas! Each time we began to make way with our wedding fund, something has come along that needed more urgent attention. First there was some debt from my teacher training year, we thought it best to clear that before beginning on the next part of our lives. Then there were the cars. In February both my car and Tom's van gave up the ghost in the same week. Left vehicle-less we had no choice but to use the wedding fund to buy new. We were both devastated to be back at square one. But we weren't going to let this get us down. We made a new savings plan and began a fresh. But again, we have been met with adversity, this time in the form of Covid-19. I am lucky that as a teacher I have been able to work from home and maintain my income. Tom, however, as a plumber cannot work from home. We are lucky that Tom is employed, his boss has been amazing, but now that he is only taking on emergency or essential work Tom has had to be furloughed. As with everyone else we do not know how long this will go on for. These are scary and uncertain times. As a result of this reduction in wages; the majority of our spare money has to go towards paying the bills rather than saving for a wedding. Once more, we appear to be back at square one which is disheartening. When we got engaged back in August this is not what we had imagined for this most joyous time in our lives.
Lockdown and our future plans
At the moment all plans and savings are on hold. We don't want an extravagant wedding but even something simple soon adds up and so we will have to wait. We could let all of this get to us, we could sit and mourn the wedding plans we once had, but we won't. Don't misunderstand me, we have had moments of sadness and have grieved a little for what might have been. However, we have decided that instead of moping we will focus on what we do have: most importantly we have each other, we have a safe home to isolate in, our bills are paid and our families are safe. At the moment this is more than enough to be thankful for. We have decided to cherish all these extra days we get to spend together in our isolation bubble and who knows we may even get something practical done: like practising our wedding DIYs and centre-pieces or even designing invitations! We know that we will have our wedding one day soon and that when we do, it will be all the more sweet and special for having fought so hard. Having all our families together celebrating our love will be something to cherish after experiencing this agonising separation from them.
A note to Tom
Dear Tom,
I have never been more grateful to have you by my side. You are my rock keeping my head above the water even in the toughest of times. You have supported me through some of the biggest moments in the last 5 years. I am so lucky that I found you. You're the best thing to come out of my brief sales career. I cannot wait to marry you and become Mrs Brundell. You are the love of my life and though it may seem cliched you are my best friend. Isolation could make or break a couple; and it has shown me that we are meant for each other, you make the hard times easier and the good times into something heavenly.
I love you endlessly,
Zoe.
A note to all the other brides out there
To each and every one of the other brides out there in Cornwall and beyond I wish you all the very best. I hope that you and your families stay safe in these trying times. I hope that you are able to have the most beautiful weddings when the time is right. Take time to mourn the loss of your plans but also try to take this time to focus on yourself and your partner, take care of each other and remember your love is what is truly important.
Let us all remember that as Virgil said "love conquers all things" especially poignant now when we could all feel a little hopeless.
Love to you all and your families,
Zoe x"
Thank you Zoe and Tom
If you would like to write a guest blog for eeek! about your wedding planning journey, your engagement, or your postponement then please contact Marie