Winter Cocktails with The Buffalo Bar
Let's get mixin' with The Buffalo Bar!
The Buffalo Bar is a vintage mobile bar. A super shiny 1964 Airstream Tradewind the perfect choice for couples looking to make a statement on their wedding day. Expect award-winning, seasonal cocktails, beer, wine, and premium spirits.
eeek! asked the very talented drink experts Jo and Sam from the Buffalo Bar to talk about a selection of cocktails for this festive time of year, the time of year when the nights draw in, the air smells of wood smoke and cocktail menus turn away from the gins and white rums of the summer in favour of the dark spirits. When cocktails turn from cooling to warming, and from long and light to dark and strong.
Christmas is the time for mulled wine, cider and eggnog, but what about some more refined drinks? Drinks that are equally at home on a rainy November night as they are at a Christmas drinks party.
So here are three of their favourites to start enjoying as soon as the nights get cold!
Old Fashioned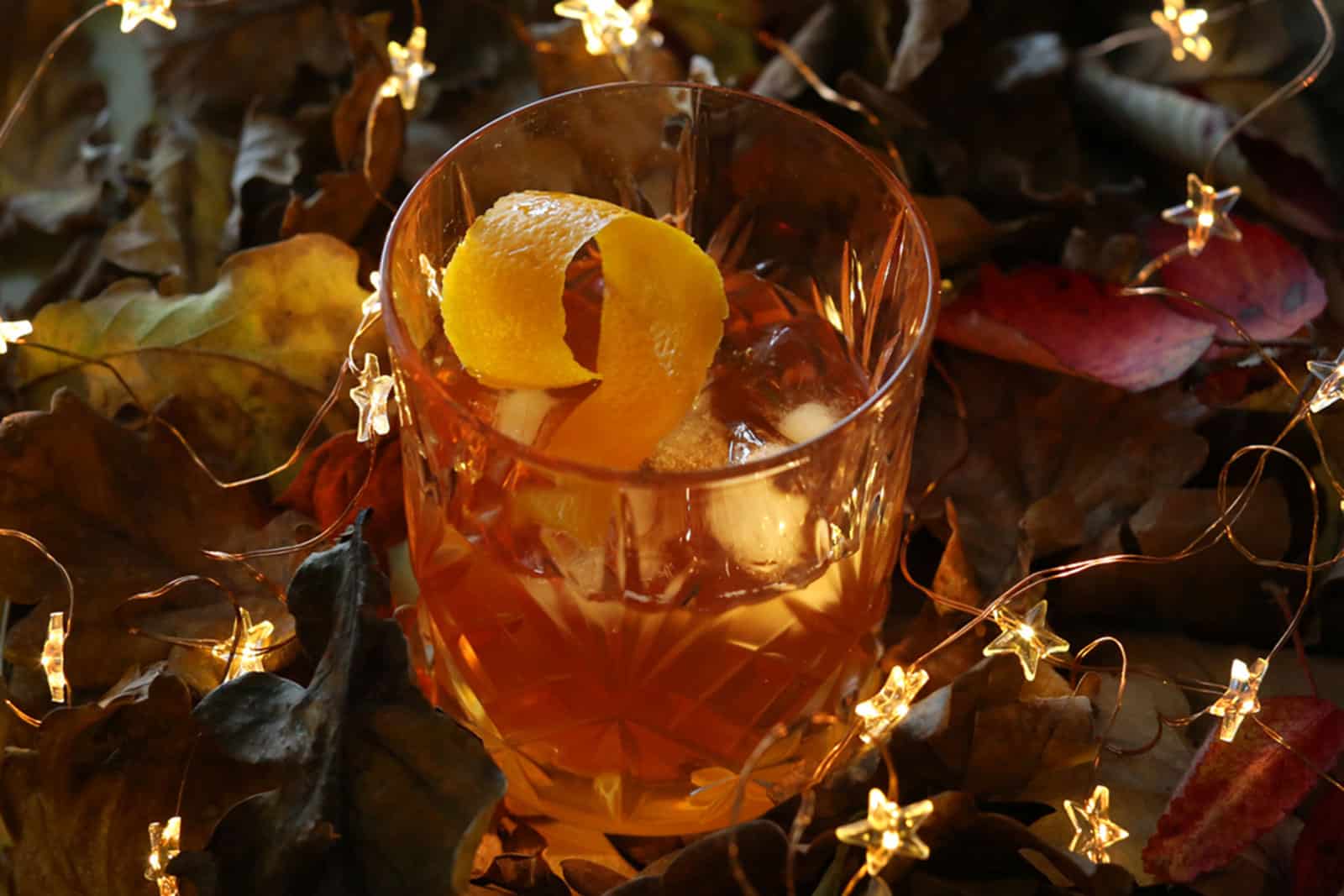 If ever there was a drink which was more than just the sum of it's parts, this is it. The Old Fashioned is pure alchemy – they say it takes 8 minutes to make a perfect one, so it's not something you'll find on many bar menus, but it's often a bartenders favourite. This recipe works well with any dark spirit (a really good rum is my personal favourite), but Bourbon is traditional – quality of ingredients is crucial in this simple drink, so use the best you've got.
2 oz Good Bourbon (Woodford Reserve is a great choice)
1 Brown Sugar Cube (or 1 Tsp brown sugar)
A good dash of Angostura Bitters
Slice of orange peel (without the pith)
Add the sugar and bitters to a nice heavy bottomed Rocks or Old Fashioned Glass with one ice cube. Crush the sugar cube and stir for a minute. Add half the bourbon and another ice cube, stir for a couple of minutes. add the remaining bourbon and two or three more ice cubes and stir for a couple more minutes. By this point the sugar should be dissolved, the drink super chilled and at just the right amount of dilution. Pinch the orange peel in half to expel the oils over the surface of the drink, some people like to rub it around the rim of the glass, then drop it in, and enjoy. I promise you, it is so worth doing it right.
There are an infinite number of variations with this drink – try dark rum and muscovado sugar for a rich molassesy warmer, or use maple syrup with rye for a perfectly seasonal treat.
Brandy Alexander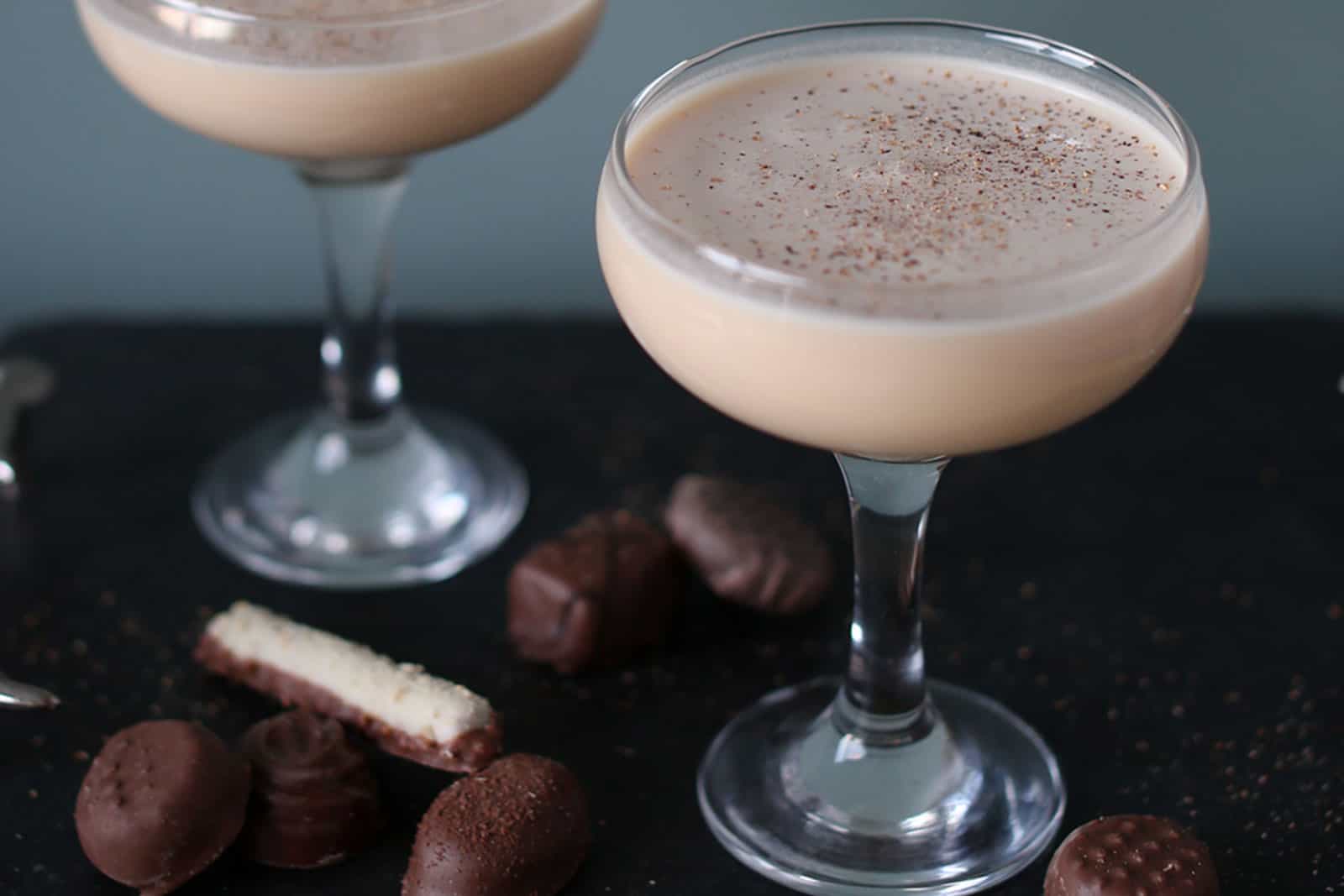 This is a warming, indulgent classic, created in the glamorous society bars of the 1930s as a variant of the now almost extinct Alexander cocktail (made with gin instead of brandy – another fine drink which is well worth a bit of experimentation). It is bold, rich and creamy and serves very well as an after-dinner drink, paired with any chocolate dessert, or even as a dessert itself.
The cognac in this drink is very forward so don't skimp on quality – you don't need to go all out, but a V S or V S O P cognac will be worth the investment.
2 oz Cognac
1 oz Creme De Cacao (Edmond Briottet is fairly widely available, or look online)
1 oz Single Cream
Add all the ingredients to a shaker with ice (a large jam jar will suffice if needs be) and shake hard until the sides of the shaker get frosty. Strain the drink, then dry shake (in the shaker without ice). Decant into the fanciest glass you can find – for my money you can't beat a coupe, but a martini glass, a wine glass or even a rocks glass will do the job, and garnish with a fine grating of nutmeg (trust me, the nutmeg really is worth the effort)
Spiced Chai Martini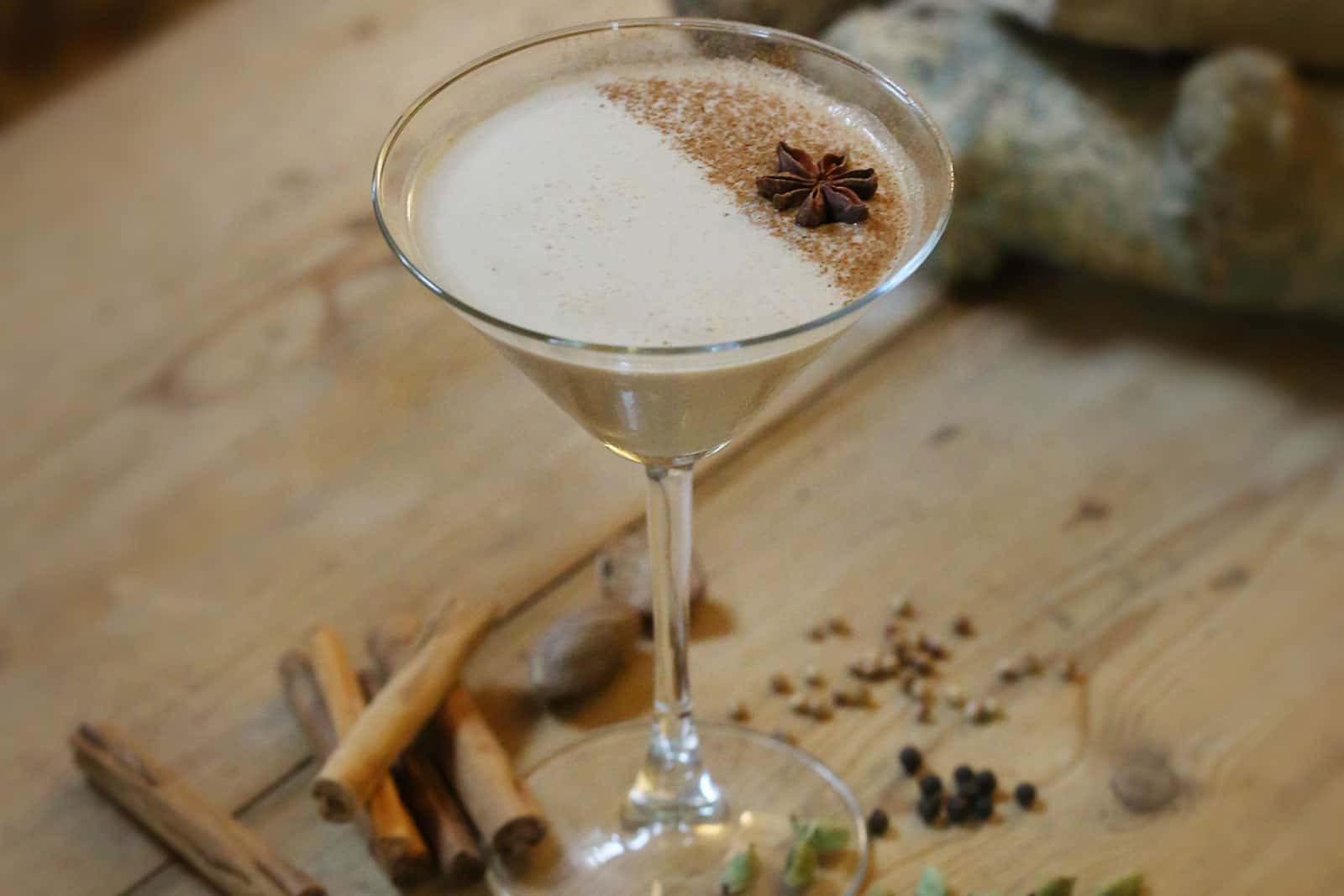 Sam and Jo created this beauty last year after becoming a little bit obsessed by Chai Lattes. Even if they do so themselves, it's a real winner – well worth the effort of making the syrup. Making the syrup will fill your house with the most delicious smell, and any leftover syrup can be used to spice your lattes, added to mulled wine, even pour over ice cream – though leftovers weren't a problem we had to deal with.
2 oz Vodka
1 oz Chai Spice Syrup (See Below)
1 oz Coconut Milk
1 oz Full Milk
Add all the ingredients to a shaker with ice and shake hard until really well chilled. Double strain (you can use a sieve or a tea strainer) into a martini glass and finish with a dusting of nutmeg or mixed spice.
Chai Spice Syrup
1 tsp Cloves
1 tsp Black Peppercorns
2 tsp Fennel Seeds
1 tsp Corriander Seeds
4 Cinnamon Sticks
20 Cardamom Pods (cracked)
3 Star Anise
2 tsp Vanilla Extract (or one vanilla pod, split & scraped)
1/2 Nutmeg (grated)
Thumb Sized Chunk of Ginger (sliced)
2 Cups Sugar
2 Cups Water.
(Adjust these ingredients according to your tastes, or how well stocked your spice rack is) Toast the dry ingredients over a medium heat for a couple of minutes, add all the other ingredients and bring to the boil, simmer for 10 minutes then leave to cool. Strain the mixture through a muslin (or just a fine sieve). This will keep in the fridge for up to a month.
If you are planning a wedding and would like something really special then talk to Sam and Jo they would be delighted to help you plan your wedding drinks menu. They can work with any theme and also fit the perfect drinks with your wedding menu.
Cheers from Jo and Sam at The Buffalo!