Why Choose a Clear Roof Marquee? A Guest blog by Hatch Marquee Hire
It's no secret Hatch Marquees LOVE wedding marquees
That's because Hatch know a marquee makes the perfect setting for a celebration. It gives you the freedom to create your wedding day, just as you want it. No rules, no restrictions, just your day, your way. So, if location and views are top of your list for your venue then Cornwall has an abundance or exceptional scenery.
So can Hatch Marquee Hire help you get the most from your location?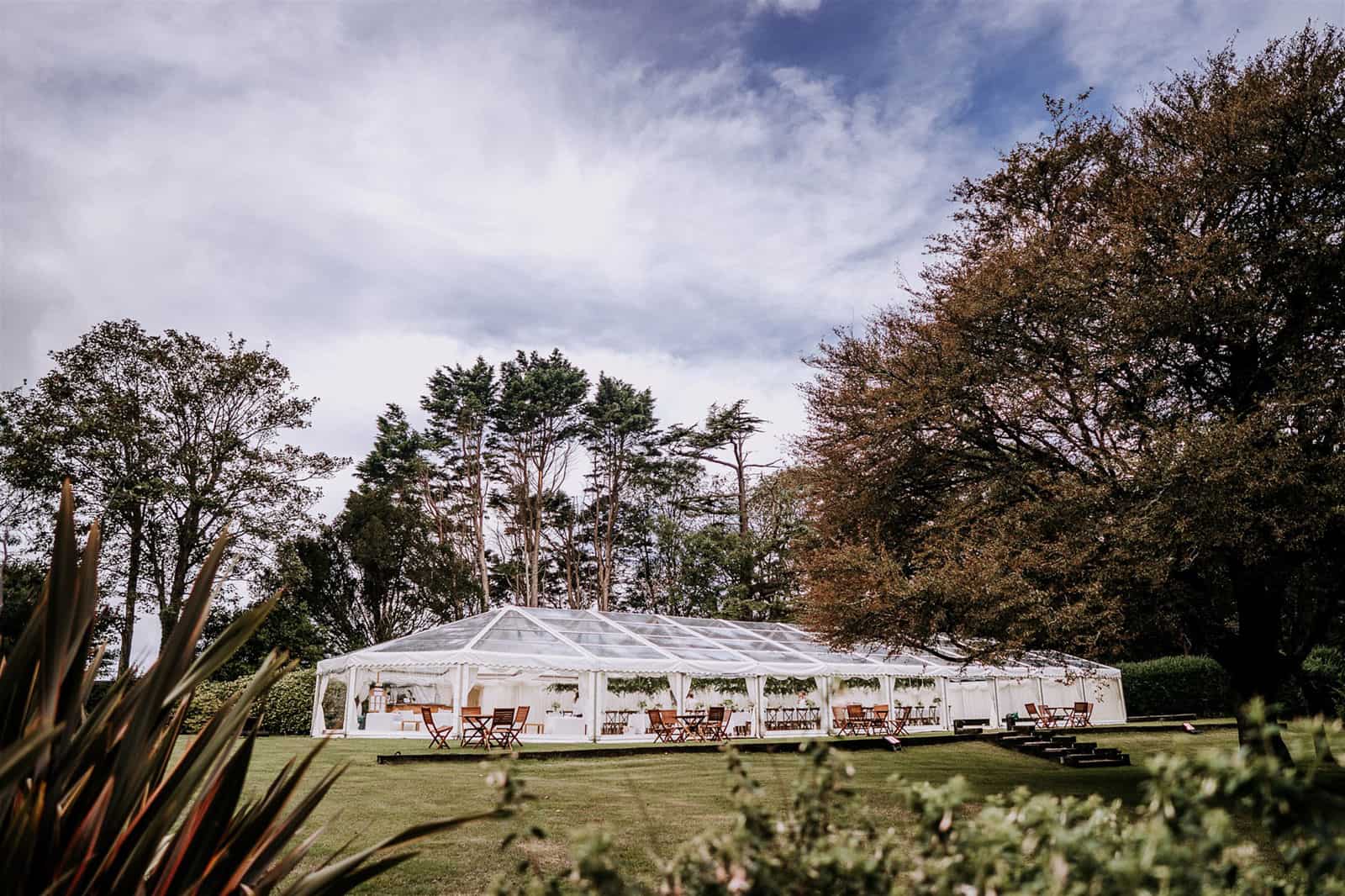 Yes! Clear Roof Marquees Put You in the Heart of Your Surroundings
It can be a challenge deciding on how you would like your wedding marquee to look, there are many different styles, but in recent years clear roofs have been introduced to frame marquees transforming beautiful wedding marquees into something quite extraordinary.
As a result Hatch Marquees can build you a beautiful purpose-built venue which enables you to enjoy your surroundings to the max. Clear roofs combined with clear windows to give an uninterrupted view of your surrounding landscape. It's got to be one of the best reasons for choosing this style of marquee. If you love the outdoor life this might be the perfect option for you.
Imagine having a beautiful coastal view as the backdrop to your day. With a clear roof marquee, that ever-changing vista stays with you from day tonight. Similarly, it's not just coastal views, if you are surrounded by trees, or have the backdrop of an elegant building all of these features become part of your day, whether you are inside or out.
Go Fully Clear!
A fully clear roof marquee looks amazing. It is a unique space, light airy and stylish – it will definitely give you the 'wow' factor. The lofty roof space is perfect for hanging decorations along with fairy and festoon lighting too. As daylight fades the twinkle factor adds a new dimension and the overall effect is stunning.
Half and Half
If you're not too sure about fully clear roof, then you can go half and half. The dining area is lined and then clear roofs are used for bar/reception areas or over a dance floor. This can be a really good way of defining different areas in your marquee. Then later, when evening falls, you can dance the night away under the stars!
Decorate to the Max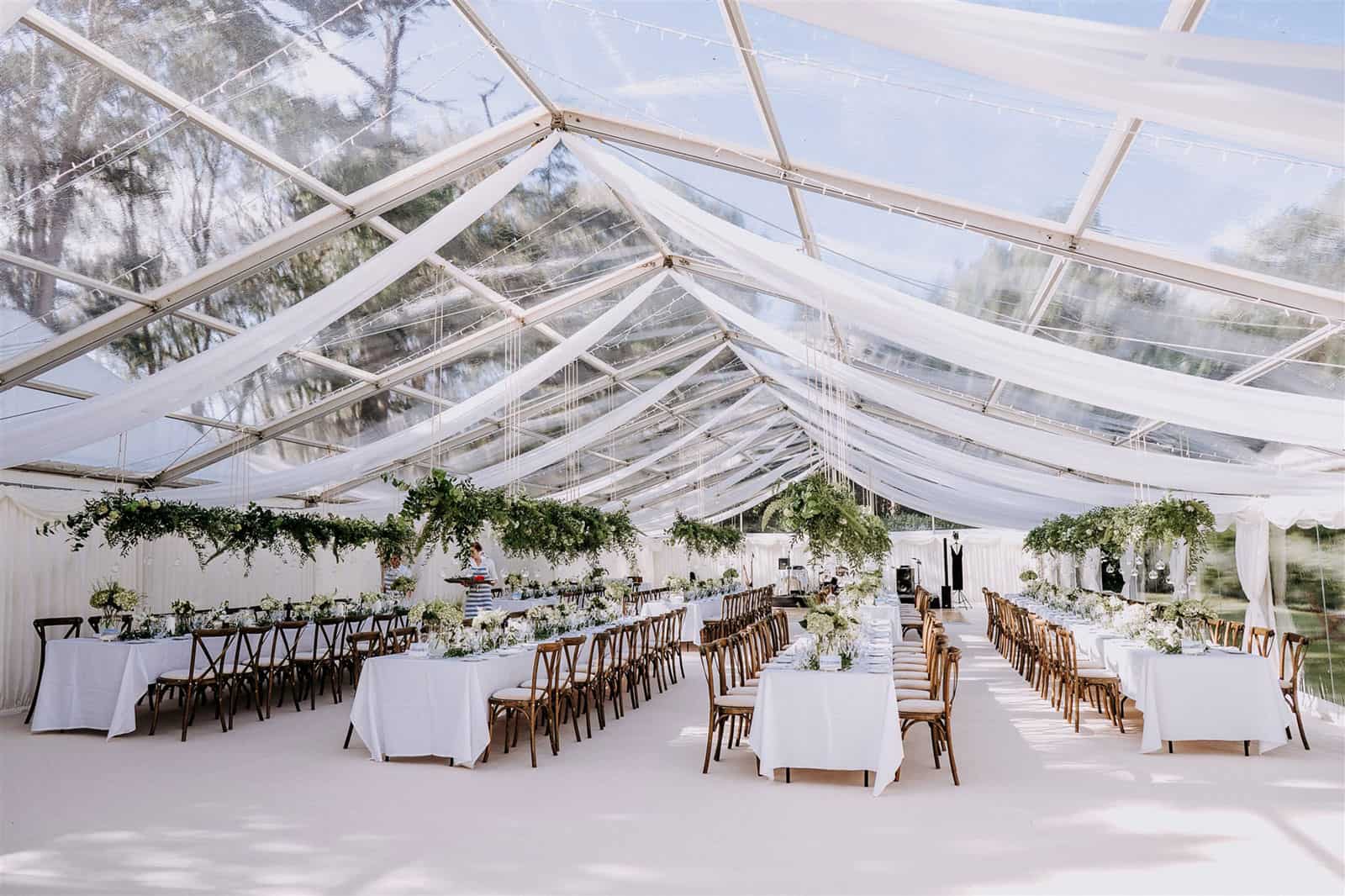 One thing a clear roof marquee loves is plenty of decorating, so go for it! Hanging floristry, lanterns, roof drapes all add interest and atmosphere to the space. The team at Hatch Marquees have also seen umbrellas, paper lanterns, lampshades and bicycle wheels! This is the fun bit and a great way to bring a bit of your own style and personality to your day. In the last couple of years hanging greenery has been very much on-trend and, we've got to agree, it does look stunning.
As mentioned earlier lighting plays a great part so go big with fairy lights – they actually reflect off the clear roofs so you get twice as much sparkle! In addition, uplighting trees and buildings can really create atmosphere and ambience as the light fades.
Get your plans underway!
Whether you want a contemporary, rustic or boho feel to your wedding, a clear roof marquee can certainly provide the perfect stage for all styles. You'll have a totally unique venue for your wedding day and a lot of fun too.
Whatever your plans the team at Hatch Marquees are always available to chat through your ideas or meet up for a site visit. So if a clear roof marquee is just what you are after, give us a shout.
Image Credits: Dan Ward Photography