Wedding Dress Trends 2019
5 Wedding Dress Styles for 2019
The Dress it's so important for every Bride it's one of the most important decisions to make when it comes to the wedding day. At eeek! HQ we love all the wedding dress stories our Brides just love to talk about their dress! There does seem to be a theme building and that is…whatever you thought your dreams dress would be you will end up with something completely different.
Here we have 5 Bang on Trend Ideas for your 2019 Wedding and there's something for every bride to be. One thing is clear, when it comes to the dress often it's not you (the bride) that finds 'the one' often it's your mum or the fabulous bridal boutiques…read Steph's story…its a great read and ladies Steph did her dress shopping in one day! ONE DAY!!
OK let's keep it real, not every bride is going to find their dress in one day, Jacqueline returned to try on the same dress three times! The big dress is still on trend for 2019…here's Jacqueline's story.
Go Big!
Jacqueline married at Trenderway Weddings and she thought she knew exactly what she wanted and that was a Grecian style gown or something slim fitting. A Clean simple, modern gown a style now very popular – it's the 'Meghan Effect'
Instead, she ended up with a 'Princess' style dress from Prudence Gowns with beautiful lace and beading on the top. Once on Jacqueline couldn't help but swoosh and twirl around. So it's true – you know it is the one when you put it on! Read more from Jacqueline and her amazing day at Trenderway Weddings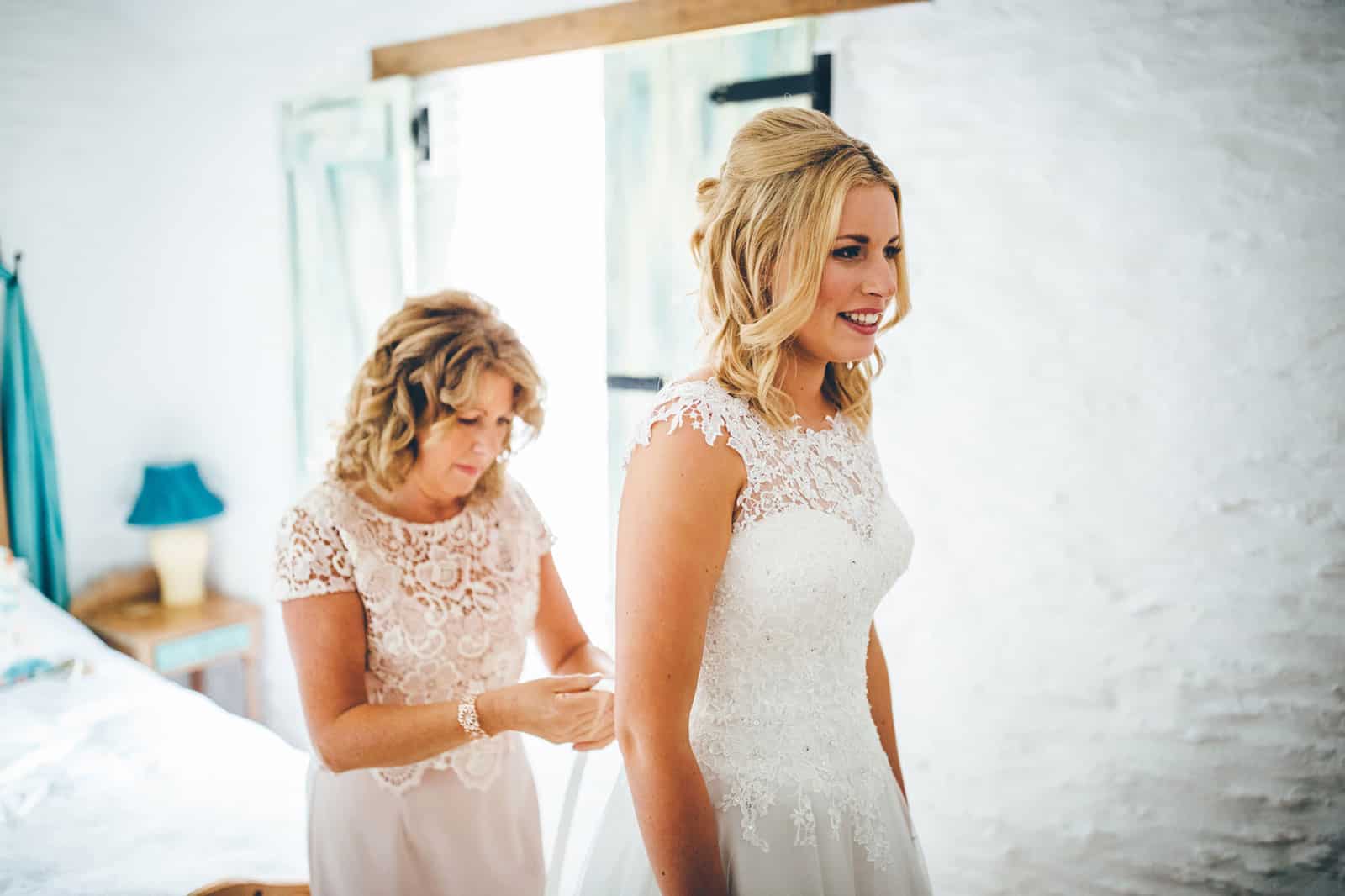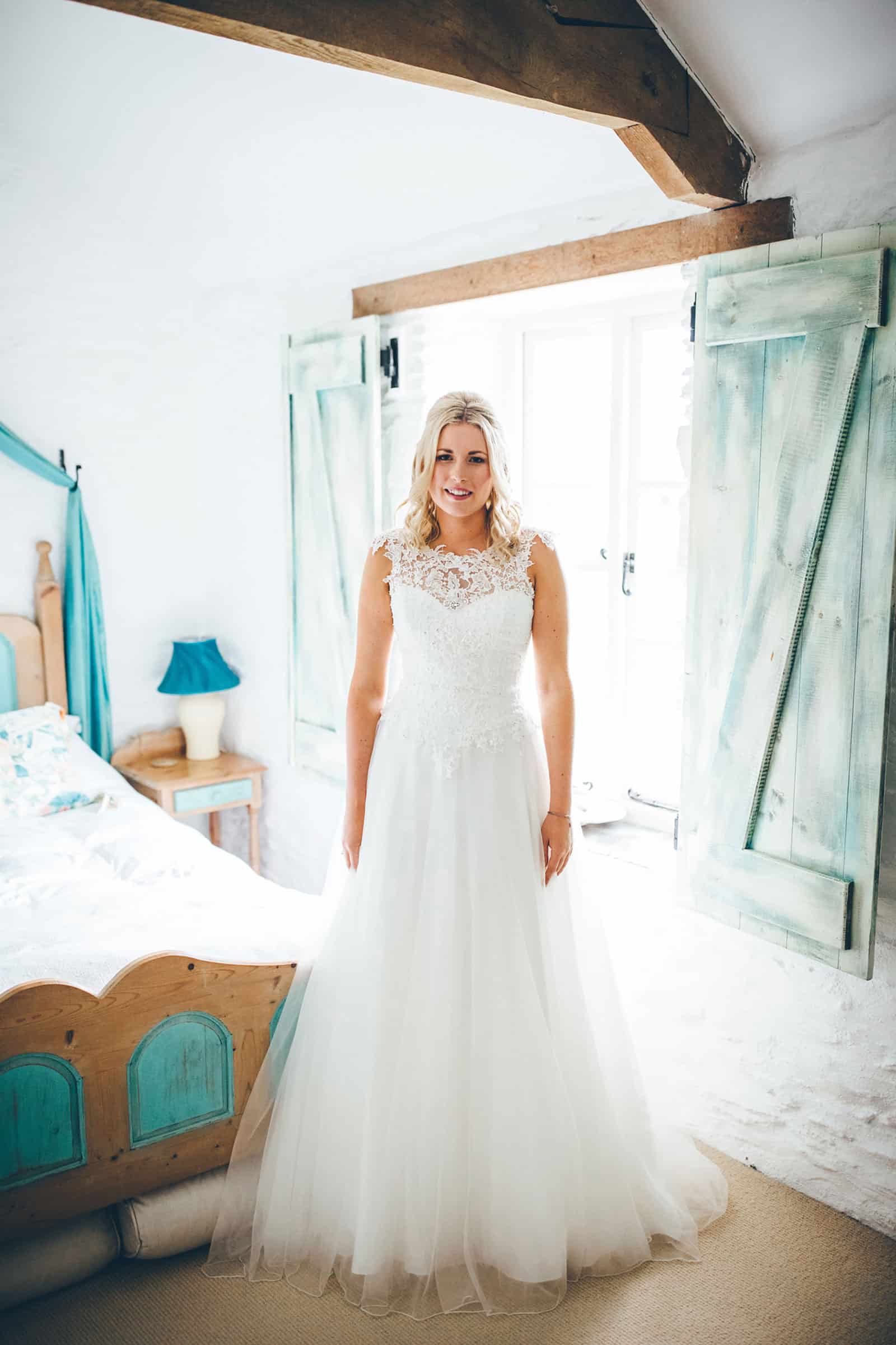 Go Short!
Not every bride is a big dress bride, going short is also perfect for a countryside or beach wedding. Go Short…especially if you want to show off your wedding shoes!
Beth and her maid of honour booked a couple of wedding dress viewings and ended up finding the perfect dress – a short vintage style dress – it had to be short so Beth could show off her amazing shoes! She loved the lace scalloped detail on the edge of the dress and as soon as she put it on, she knew it was the one. See more from Beth's day here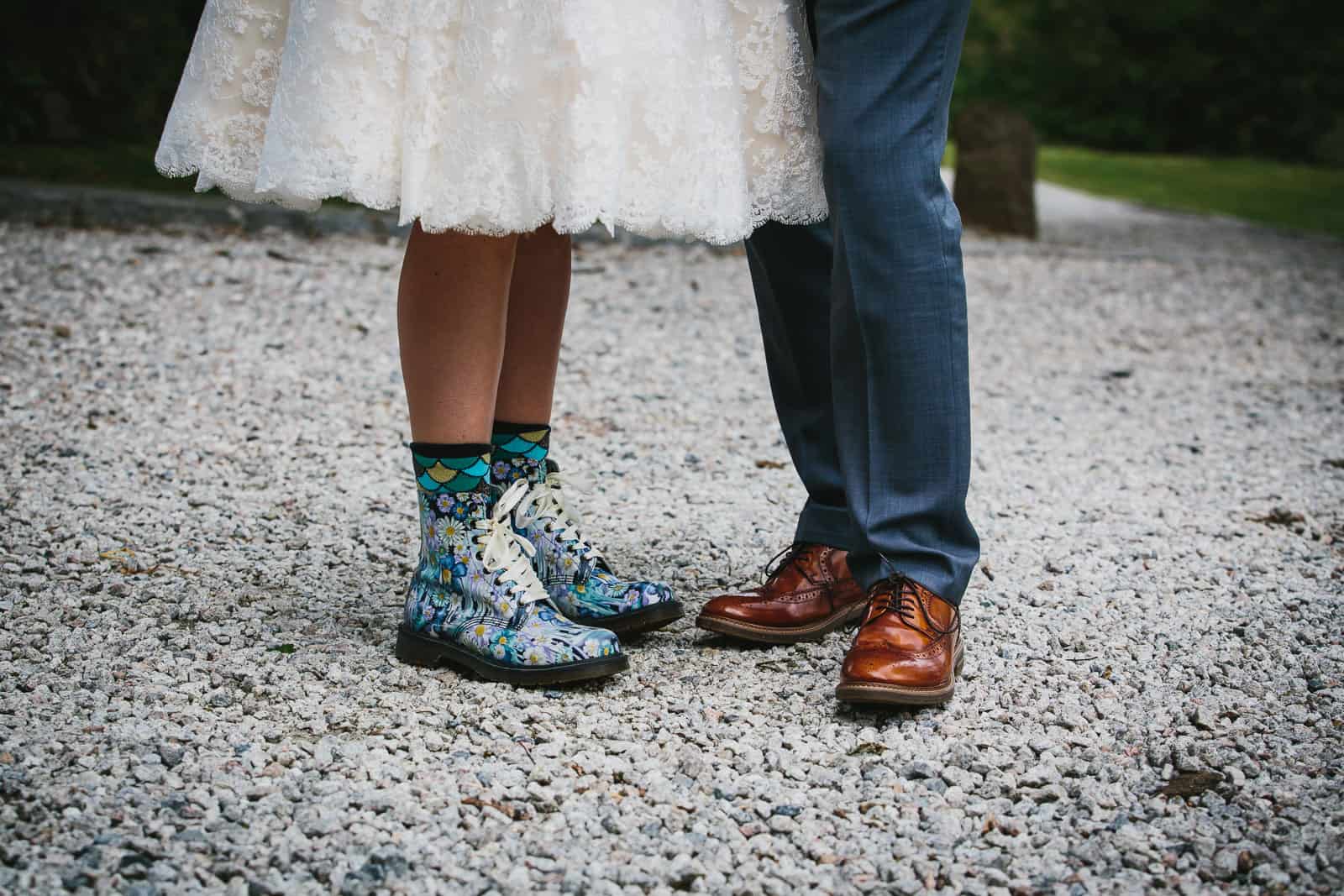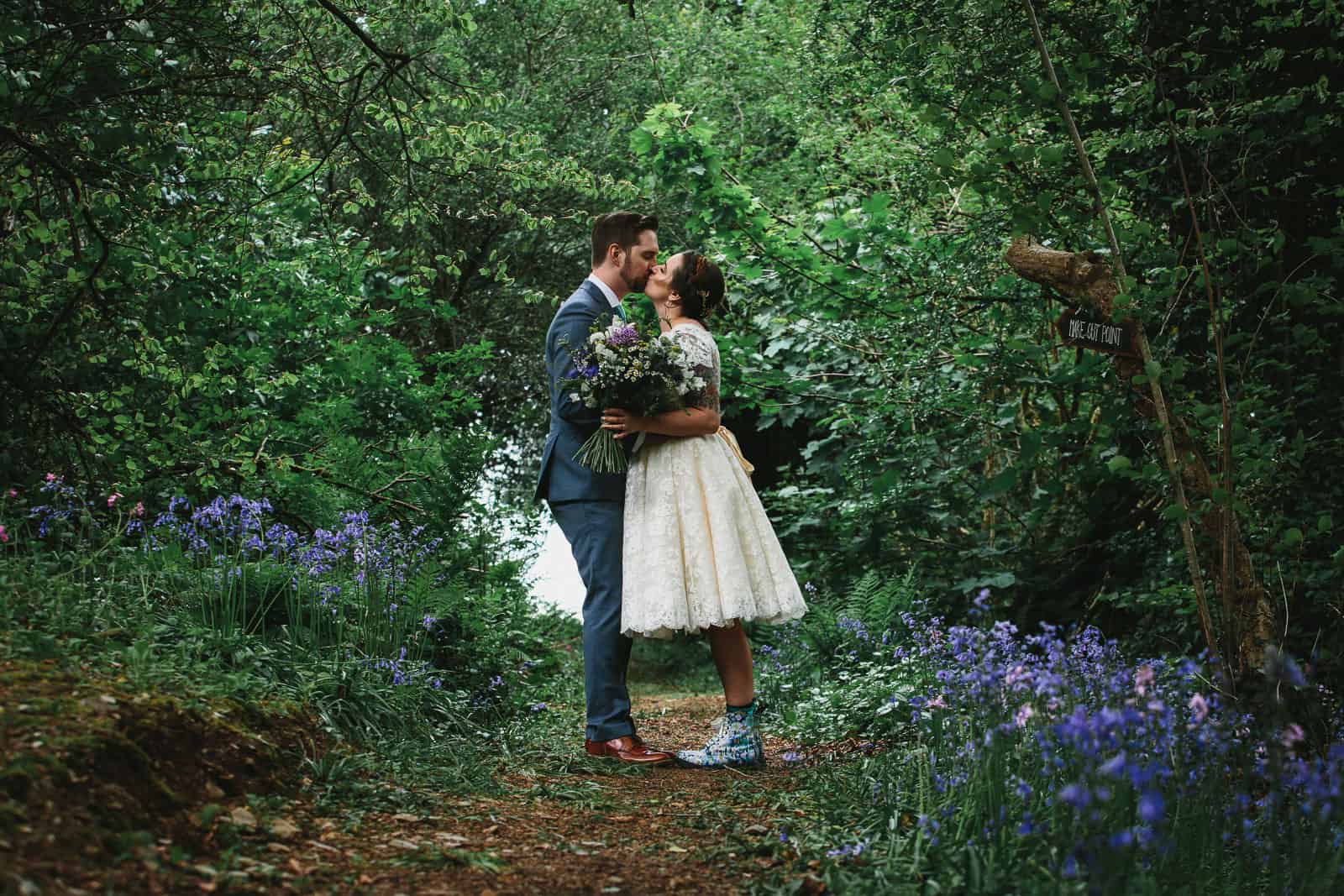 Clean and Simple
Emilie from Emilie's Professional Hairdressing collaborated with four talented and amazing individuals to create a bridal shoot and Elaine Rawlings Bridal Boutique supplied two very different but elegant and romantic wedding dresses.
Clean and Simple. The first gown was a simple silk gown, this look is going to be big for 2019, a look inspired by the 'Meghan Effect' In this shoot, the gown was complemented with a beautiful wildflower bouquet.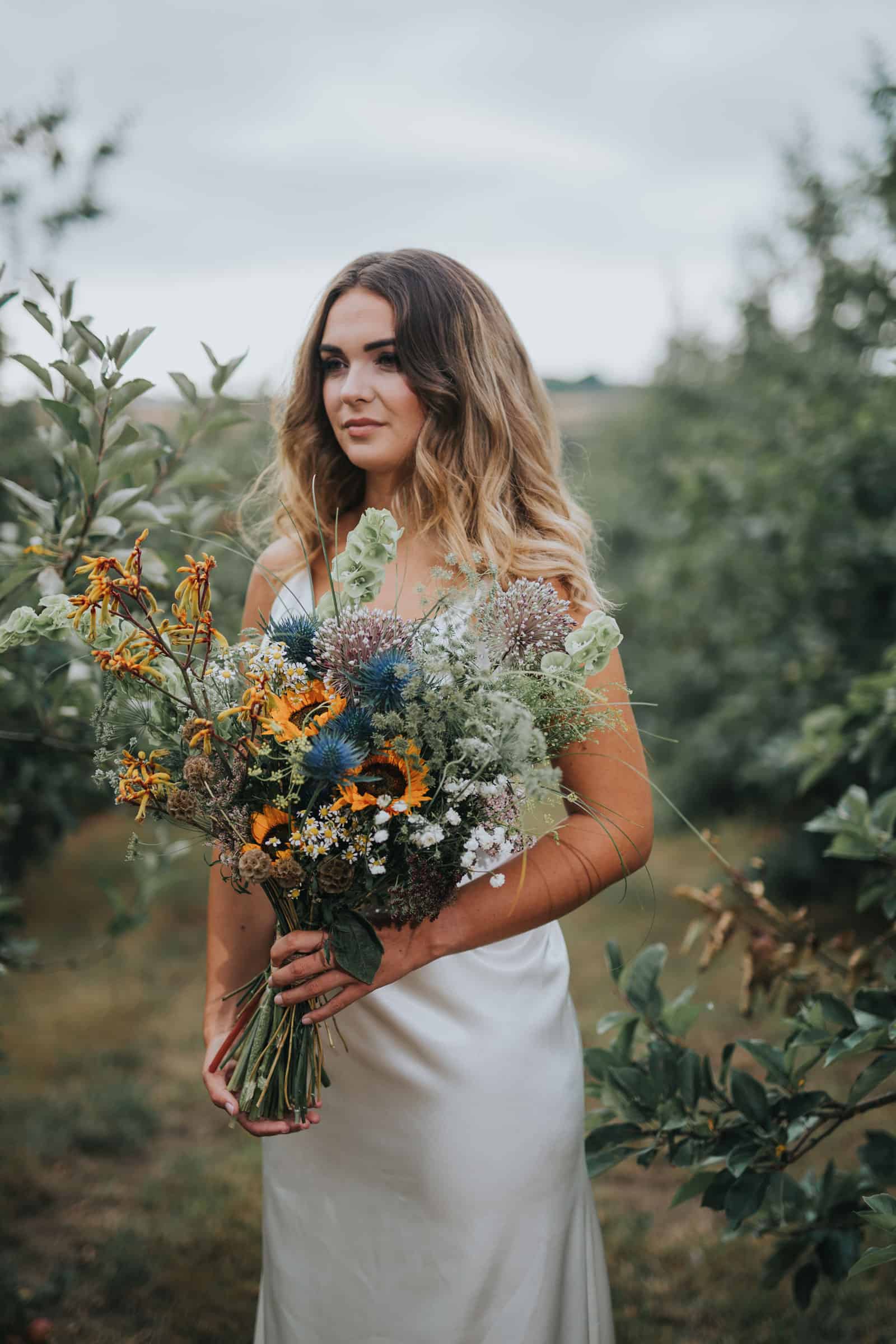 Off The Shoulder
The second dress was a stunning lace gown which has long sleeves, an off-shoulder neckline and a beautifully edged train.
Elaine's attention to detail and commitment to perfection is one of her many qualities, making a trip to her boutique a must when searching for the dress of your dreams. The boutique is packed full of stunning designer wedding gowns in the collection she has designer gowns from Sincerity, Callista, and Ellis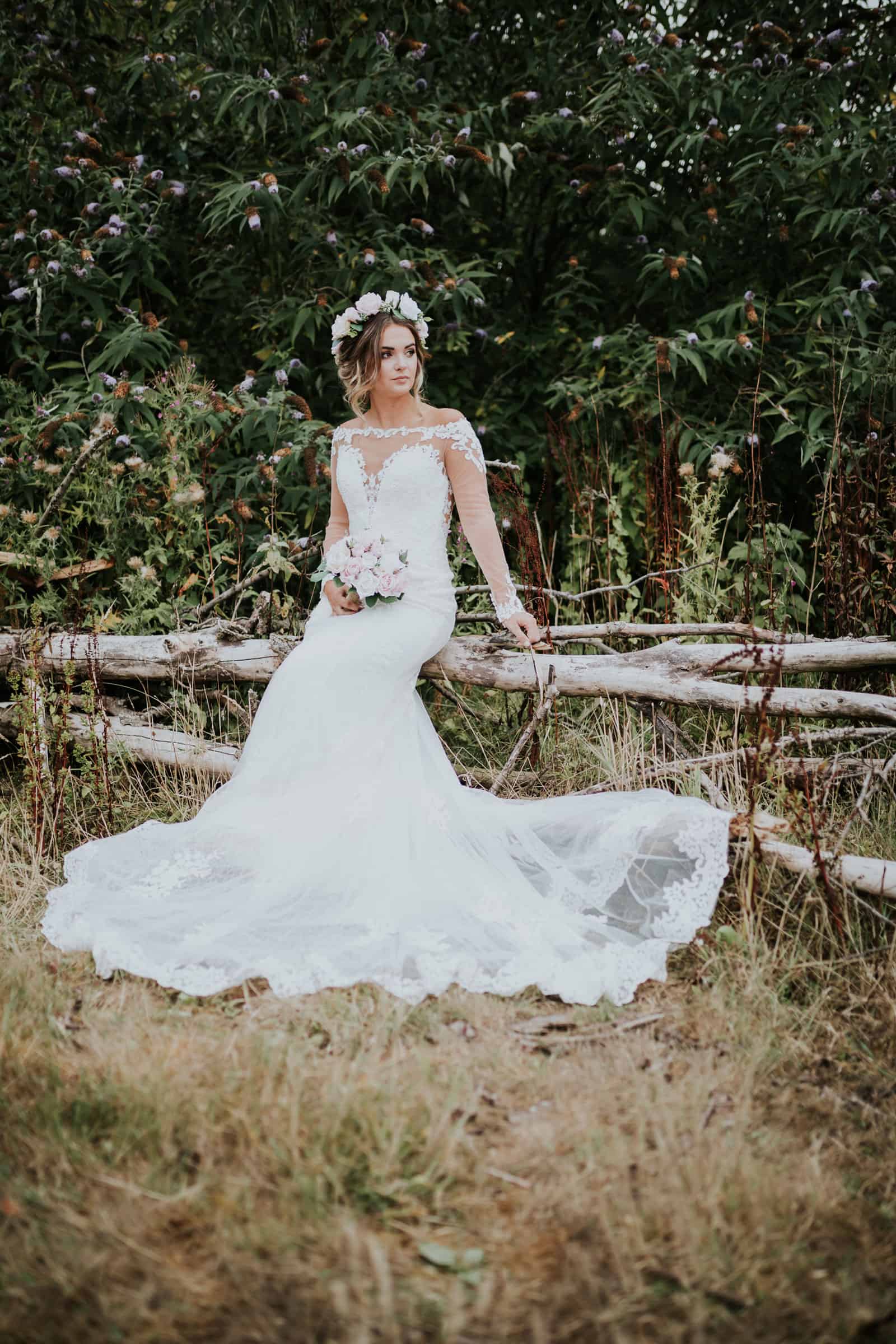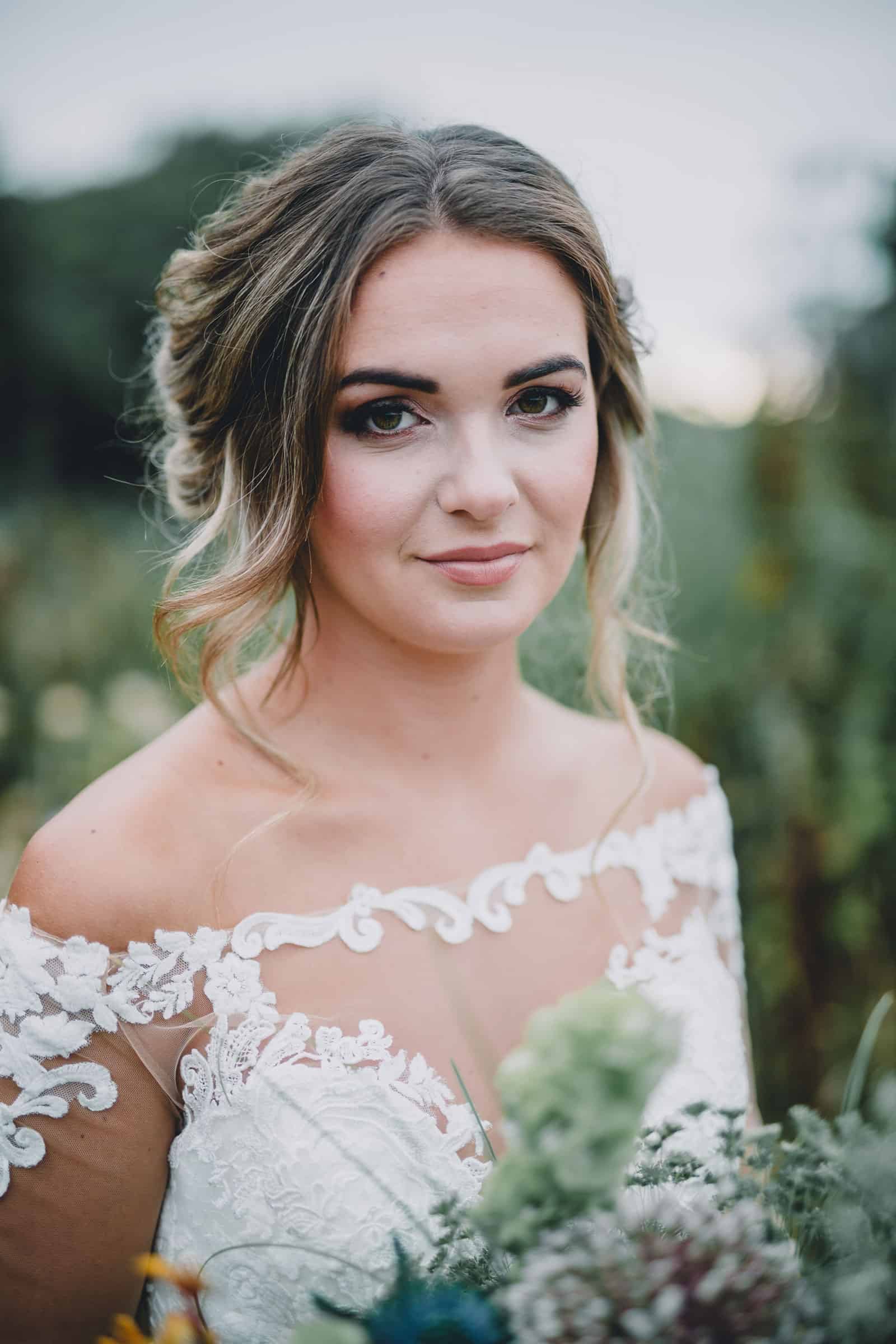 Lace and Colour!
The dress Charlotte chose was a beautiful A-Line dress in champagne nude with ivory lace and a sweetheart neckline from Prudence Gowns. Lace and Colour are hot for 2019… here's Charlotte's story.
Charlotte, her mum and mother-in-law booked a visit to Prudence Gowns in Plymouth, Charlotte had a set style for her dress and colour, and even ideas for her accessories in her head. She picked three dresses she liked and was told to take four.Looking around a fourth didn't stand out until her mum picked one. A dress completely different from her own selection.
Charlotte tried the three on which were all white with diamonte and a mermaid style, to say she was disappointed was an understatement. White made her look so pale and the style did nothing for her figure. Totally disheartened she tried on the fourth dress selected by her mum and as soon as she put it on she cried, her mum cried and so did her mother in law.
"It wasn't what I had envisioned but it was so much more. It was the complete opposite of what I liked but it was such a timeless and classic dress."
Prudence Gowns offers a unique collection of Bridal Gowns, from Designers such as Ronald Joyce, Nicole Spose, Sincerity, Justin Alexander, Mori Lee, Ronald Joyce, Pronovias to name but a few.
See more of Charlotte and Dave's Wedding at St Mellion International Resort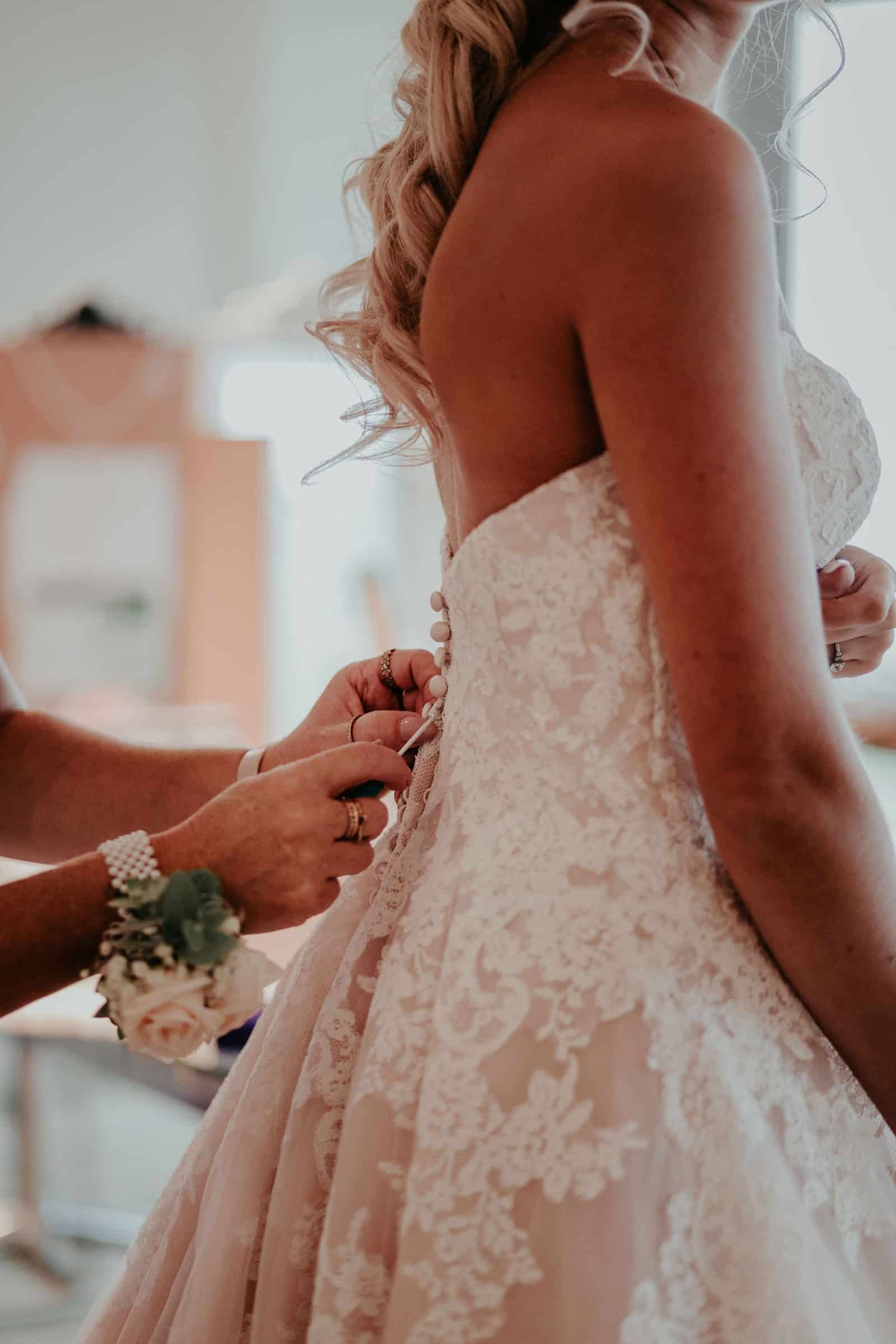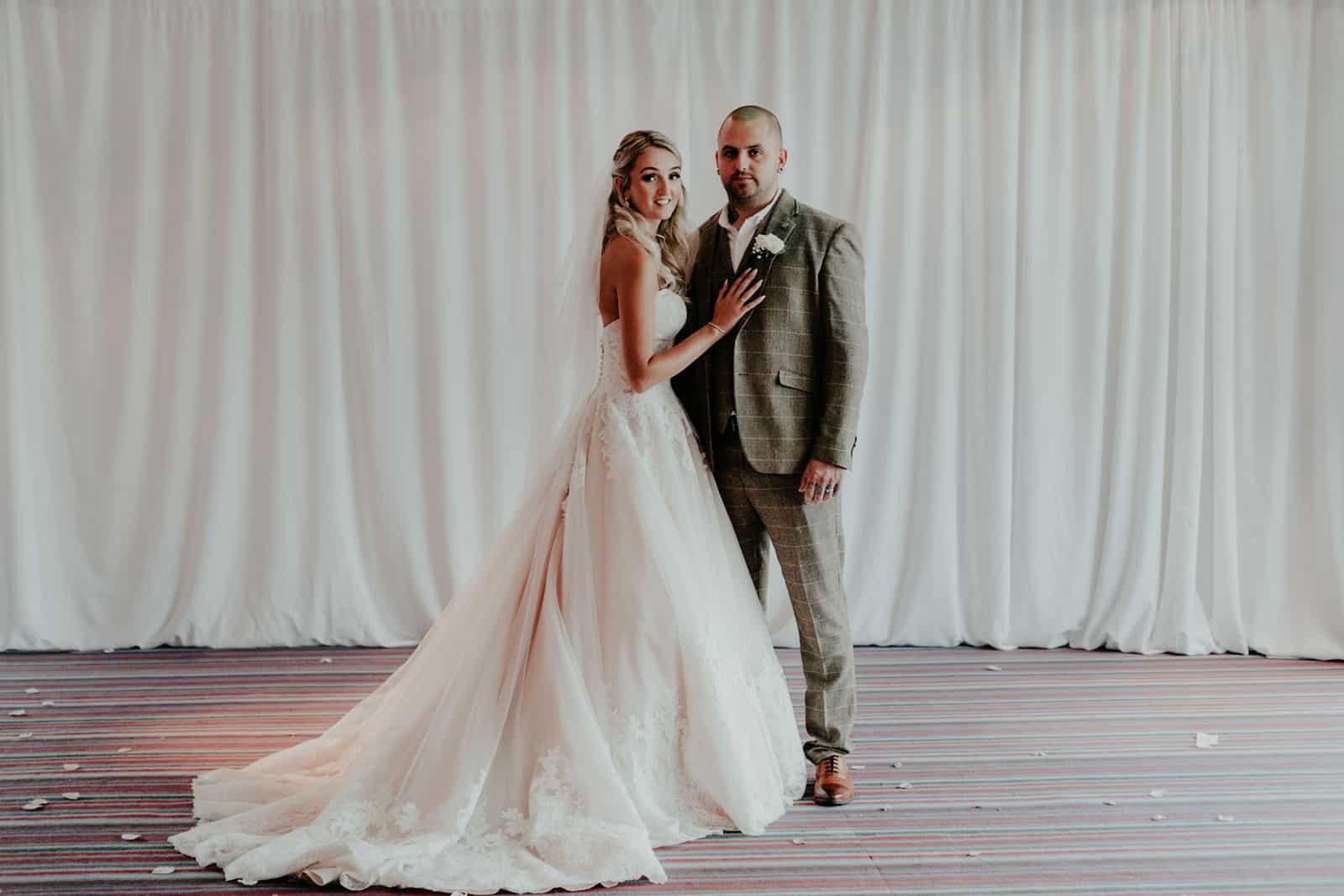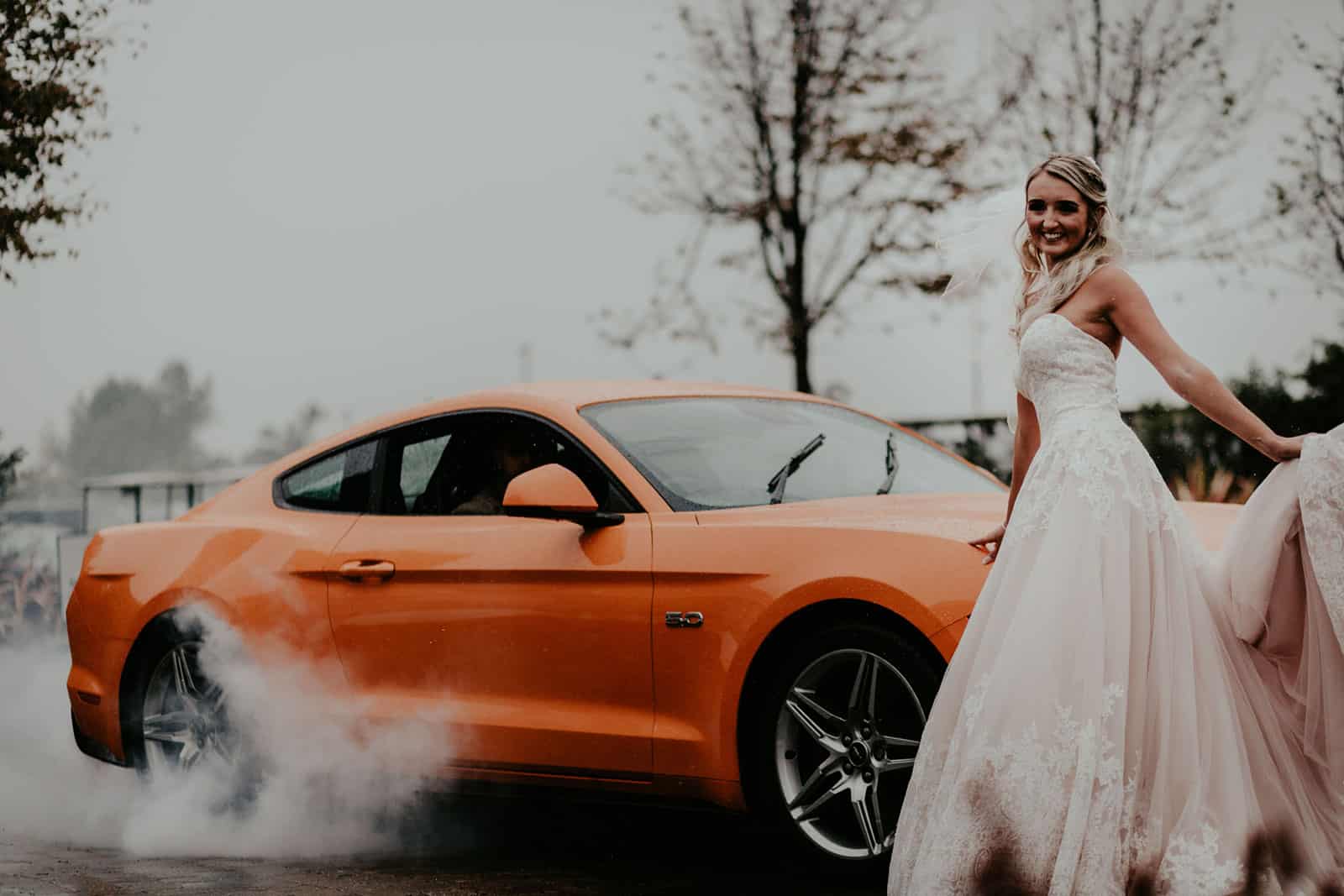 Guest Blog Finding The Perfect Dress. Expert Help at the Bridal Studio
Our help doesn't stop here…read our Guest blog from Tara at the Bridal Studio top tips to help you find your perfect dress!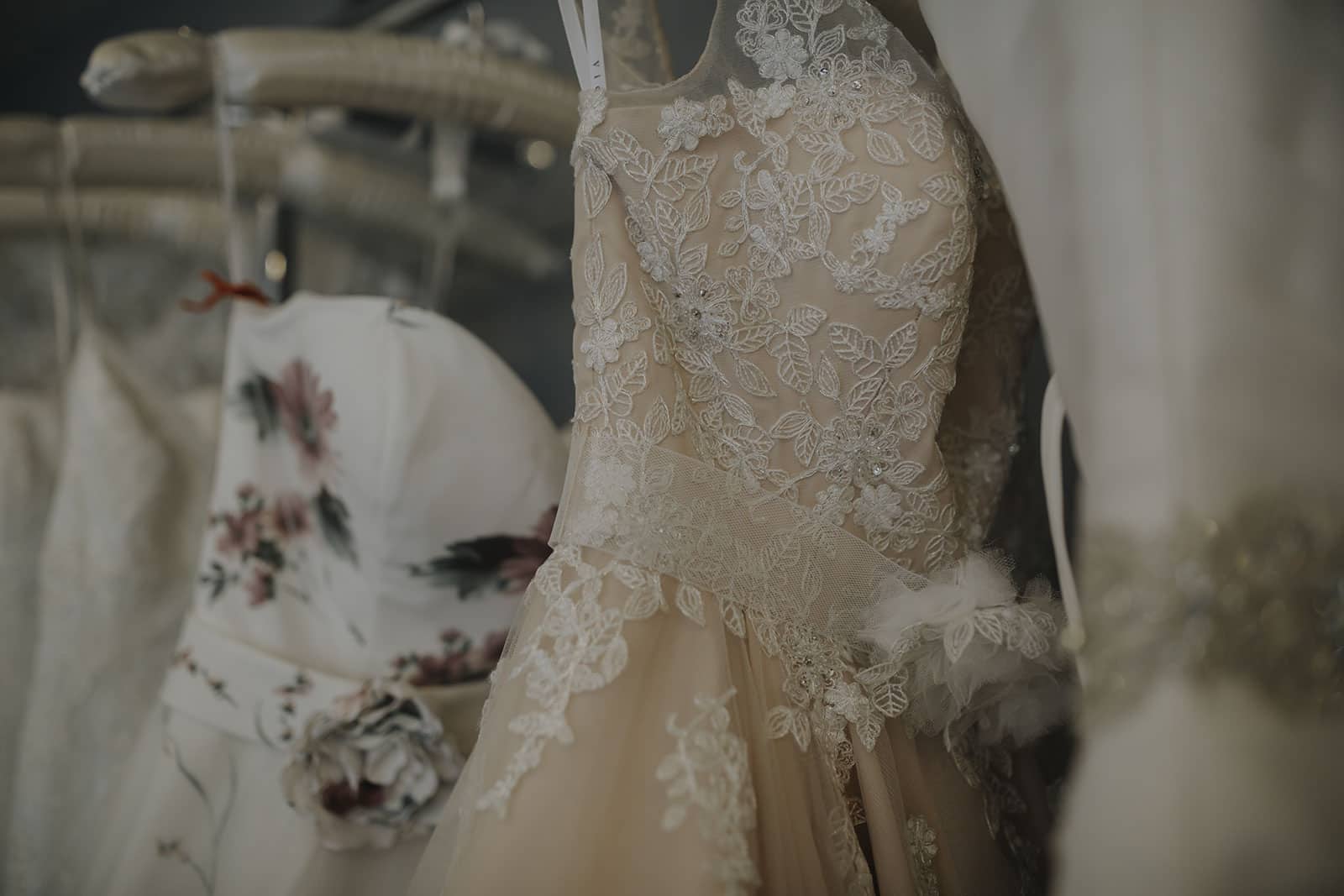 Image Credits
Go Big!
Photographer: Toby Lowe Photography
Go Short
Photographer: Alexa Poppe Photography
Clean and Simple & Off The Shoulder
Photographer: Steven Prebble Photography
Lace and Colour
Photographer: Olivia WR Fine-art Photography