The Colour Room Designer Accessories Galore
The Colour Room
Award-winning bridal outfitters The Bridal Studio has launched a new addition called The Colour Room, offering a wide range of designer accessories to ladies attending formal and special occasions and to celebrate the launch Tara is also running a fabulous competition on The Bridal Studio's Facebook page…read on to find out more and good luck!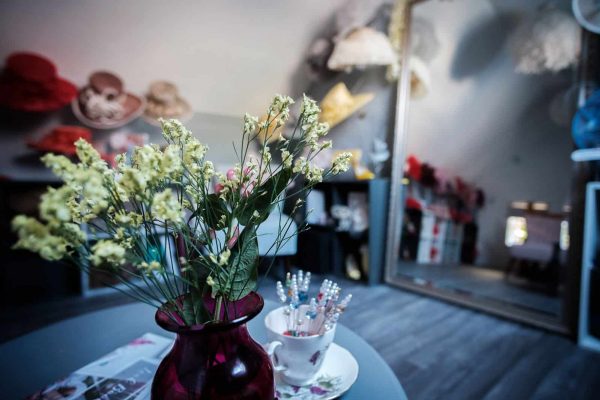 The Colour Room, is a showroom dedicated solely to occasion hats, shoes, bags and accessories, tastefully arranged in beautiful colourful displays helping customers find the perfect items to match their outfits.
Tara Trethowan, owner of both The Bridal Studio and The Colour Room, said: "This October, we will have been open for three years and I think we've come quite a long way since then! Originally when we took on the shop, there were wedding dresses, a few hats, a few bags and a few, very boring, ivory shoes, which I didn't feel offered our customers enough choice.
"We had this great space upstairs, which I wanted to make better use of, in a way that would really benefit the business and provide a better experience and service for our customers. So, after a few brainstorming sessions, we came up with the idea of The Colour Room and went from there."
Featuring hats, shoes, bags and other accessories from the latest collections by well-known occasionwear designers such as Rainbow Club, Max & Ellie, Jane Anne Designs and Fallsworth Hats, The Colour Room offers a wide range of beautiful, colourful accessories that can be perfectly matched to outfits for balls, proms, weddings, Flora Day and other formal occasions.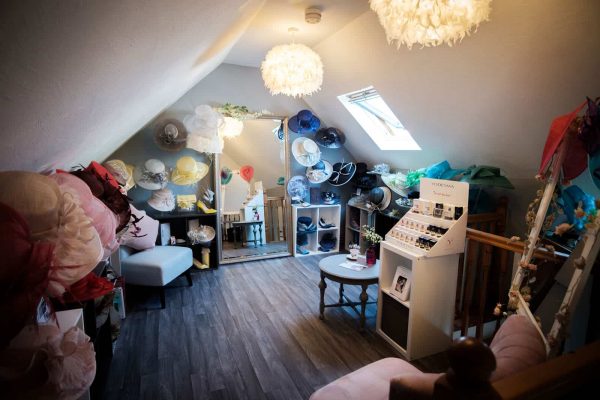 "We purposely chose our suppliers so that we can offer a greater choice to our customers," says Tara. "Our decision wasn't only based on their products but also on the additional services they can provide too, like Rainbow Club's bespoke colour service, where you can have a pair of shoes dyed any colour you wish.
"We can also add additional colours, fabrics and feathers to any hats and fascinators to really make items bespoke to our customers and their outfits."
The Launch
The Colour Room formally opened to the public on Tuesday 17th July, following a VIP preview evening for wedding industry professionals the week before, gaining lots of positive feedback from customers and the wedding industry alike.
Andrea McNeil, director of Simply Weddings, said: "It's beautiful up there! There's enough choice but not too much, and the way it's styled makes everything accessible and easy to see."
Donna Sharpe, founder of Cornish wedding blog Pasties & Petticoats, said: "As you come upstairs, you don't expect this little tardis of accessories and colour. It's great for wedding guests and it'll be amazing for the Flora Day ladies to have such a bespoke service and an amazing range in town."
Founder of Art of Weddings, Jules Hayden said: "I think it's superb: a great selection, a lovely environment, I can imagine mums would feel very comfy up there. I'm really glad Tara has done this, it's a real no-brainer and such a natural progression for The Bridal Studio."
To celebrate the opening of The Colour Room, Tara will be running a competition on The Bridal Studio's Facebook page, where entrants must follow the instructions to be in with a chance of winning £250 of Rainbow Club accessories of their choice, kindly donated by the company themselves.
Emily Lawson, sales representative for Rainbow Club, who also travelled down from company headquarters in Exeter to support the launch, said: "Tara's displays are lovely and really showcase the accessories and what we can do in terms of bespoke colour matching and luxury occasionwear at an affordable price point. At Rainbow, we like helping our stockists and small businesses, so we're more than happy to support Tara and The Bridal Studio."
Tara commented: "The feedback and support we've had from suppliers, colleagues and customers in the few days we've been open has been fantastic and very much appreciated. It's good to know we've made the right choice for our business by opening The Colour Room and I think it will help us go from strength to strength in the future."
The Colour Room will be open four days a week from 9.30am to 4.30pm, at the same time as The Bridal Studio, with appointments available if required. For more information or to book an appointment, visit The Bridal Studio or call 01326 560903.
Photography Adam van Dorp Photography