A Romantic Engagement in New York City
Poppy and Jamie – Their story
You will giggle…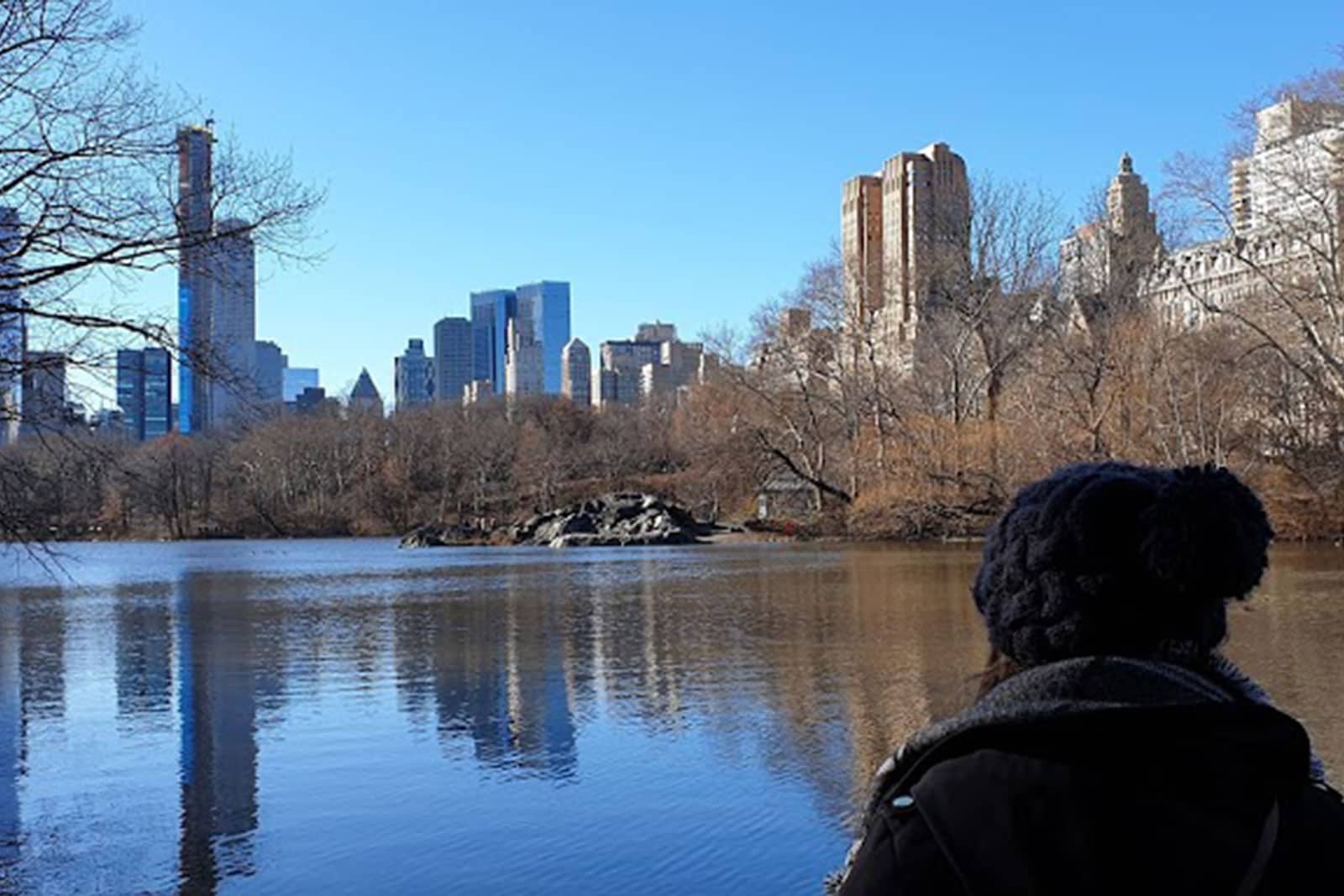 Marriage – The Discussions
There are very few boundaries in our relationship and discussing marriage and our future has never been one for Jamie and I. We had actually spoken about getting married so much throughout our relationship that I would have been fairly confident that he could have pulled off the planning and execution of my dream wedding in a "Don't Tell the Bride" style (that is if I could ever bring myself to relinquish control of the organising when the time came!)
We both love to travel to new places when we get time off from work and have albums full of photos from places like Mount Blanc, Thailand and Mexico. I had been desperate to take Jamie, a firm anti-urbanist, to New York for a long time as it was, and still is, one of my favourite places. We finally booked to go in the week before Christmas 2018 to soak up the festive atmosphere and squeeze in a bit of last minute shopping.
It had always been my dream to get engaged in Central Park on a crisp winter day as the snow begins to fall. Jamie however always recoiled and exclaimed that this was "too cliche" and that he would never do something so predictable. He assured me that when the time came he had the perfect plan that I would never see coming and would then swiftly chastise me for again trying to get him to spill the beans on the one secret he continued to keep from me. Despite this, a small part of me hoped that he was trying to throw me off the scent of a fabulous New York engagement!
This hope shrank as the time until our flight drew closer. Jamie has generally been a prolifically poor saver and would transfer any savings into a separate joint savings account so that the balance could grow and not shrink as it usually would. We were saving for a deposit to buy our first house and were both working flat our to earn and save as much as possible. I gradually started to let go of the idea that we might get engaged in New York as we put all of our money into savings and told myself that we couldn't afford to get engaged let alone married this time.
Fast forward to our second day in New York and we had planned to visit the Natural History Museum followed by a walk through Central Park. The day got off to a terrible start when the shower in our hotel flooded the bathroom and the bedroom and I remembered that I had left our pre-purchased tickets to the museum at the hotel (it's not so great when you only realise this as you are stood in the admissions line).
We abandoned our plans for the museum to another day and walked a couple of blocks to grab a bagel from a small deli (egg salad on plain for him, GARLIC and herbs on ONION for me). My mouth burnt and my eyes streamed – Edward Cullen and Dracula would have both fled in terror!
The build up to the proposal
Following this, we wandered through Central Park starting in the Rambles – a gorgeous wooded area beside the lake with meandering paths and rustic bridges. One of the things I have always loved about Central Park is the juxtaposition between the tranquillity of nature inside and the towering urban skyline surrounding it like a picket fence. That day did not disappoint as the sun streamed through the freezing sky and the buildings and lake glistened. We approached a small jetty over the lake and I asked Jamie to take an Instagram worthy picture of my looking out across the water with the skyline in the background and fully expected him to laugh and mock me. To my surprise, he willing agreed and told me to turn around. Perhaps I would have been more suspicious if he hadn't been faffing with the camera settings on his new phone for the whole of the trip so far…
However, after a few snaps, Jamie hurried me on from the jetty as a small family had gathered at a polite but not so discrete distance from us waiting to take our place for the obligatory tourist style pictures. We walked further on until we reached another bridge again looking over the lake but this time with a small stream tumbling down over a few rocks creating a mini woodland waterfall directly behind. Jamie offered to take some more Insta snaps for me and again told me to face the lake.
The proposal
After a few seconds, he said he had finished taking the many Insta snaps and told me to turn around so we could carry on…
I flounced around and swung my arms in a dramatic manner as if I was a fancy model finishing an artistic photoshoot and startled when I noticed my 6 foot plus boyfriend was lower than me and was kneeling on the floor. I knocked his hand and saw the panic as he scrambled to stop himself from dropping a square blue box onto the bridge…or even worse into the lake. He recovered and simply said "Poppy Phipps, will you marry me?"
As you may have noticed, I always have plenty to say. But all I could manage was "wow". He stood up and put the ring onto my finger and asked whether that was a yes. I laughed and said it was – how could it not be?
It was perfect and more than I ever imagined. I did ask why he chose to propose in Central Park (even with me holding more garlic on my breath than you could find in the whole of France) when he had always said it was cliche – he said it had always been his way of throwing me off of the scent and when he saw how beautiful it was, he knew and agreed that it was the place where he wanted to ask me to spend the rest of our lives together.
He is my best friend and our holiday to New York will forever be my favourite. But what makes the proposal even more special to me is the work he put in – taking multiple trips in search of the perfect ring, squirrelling and saving and even setting his alarm early the Saturday before we left to "go to work", getting up and dressed and out the door on time to pick it up (anyone who knows Jamie knows he doesn't do mornings and even needing to get to work isn't always a guarantee to get him out of bed on time…)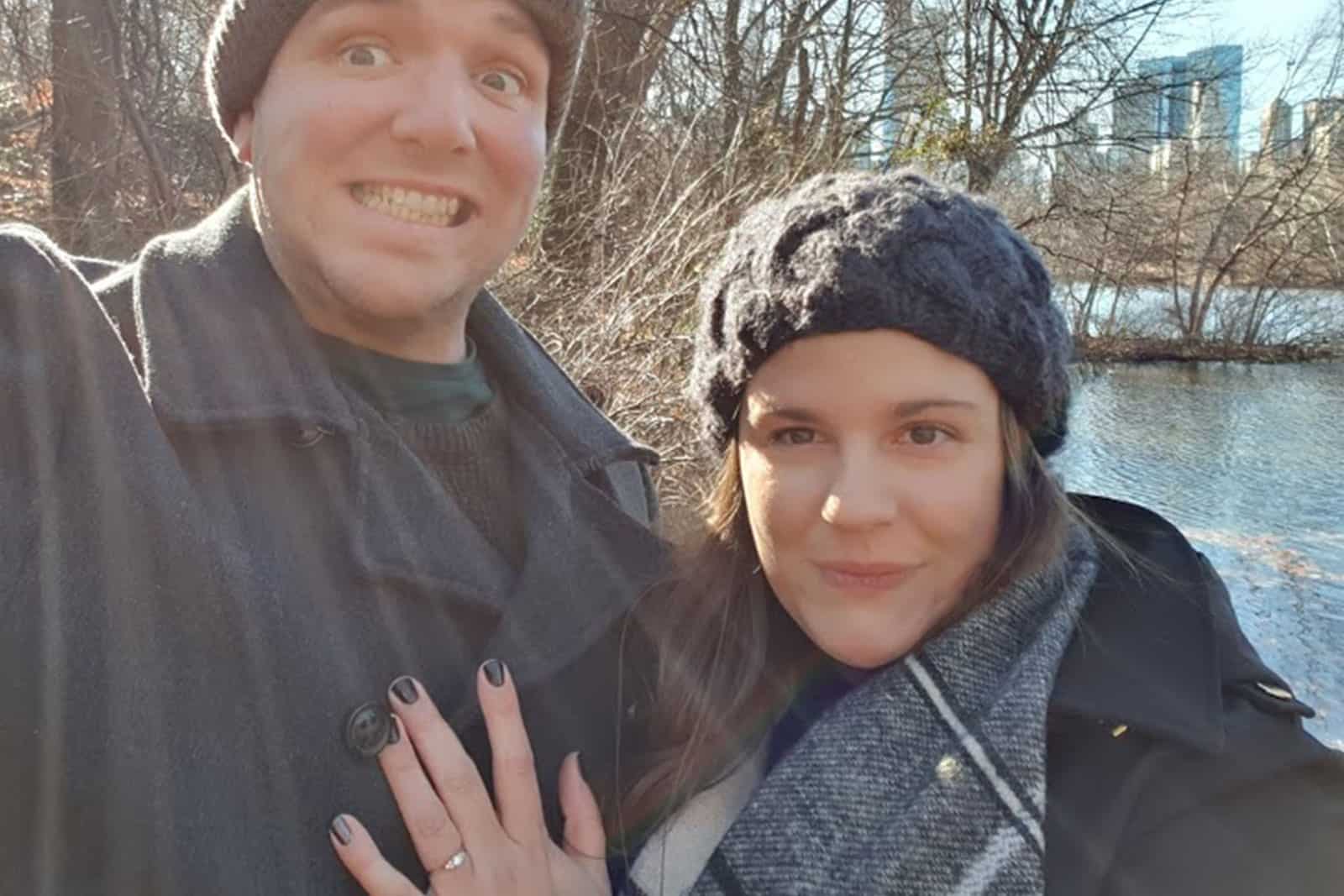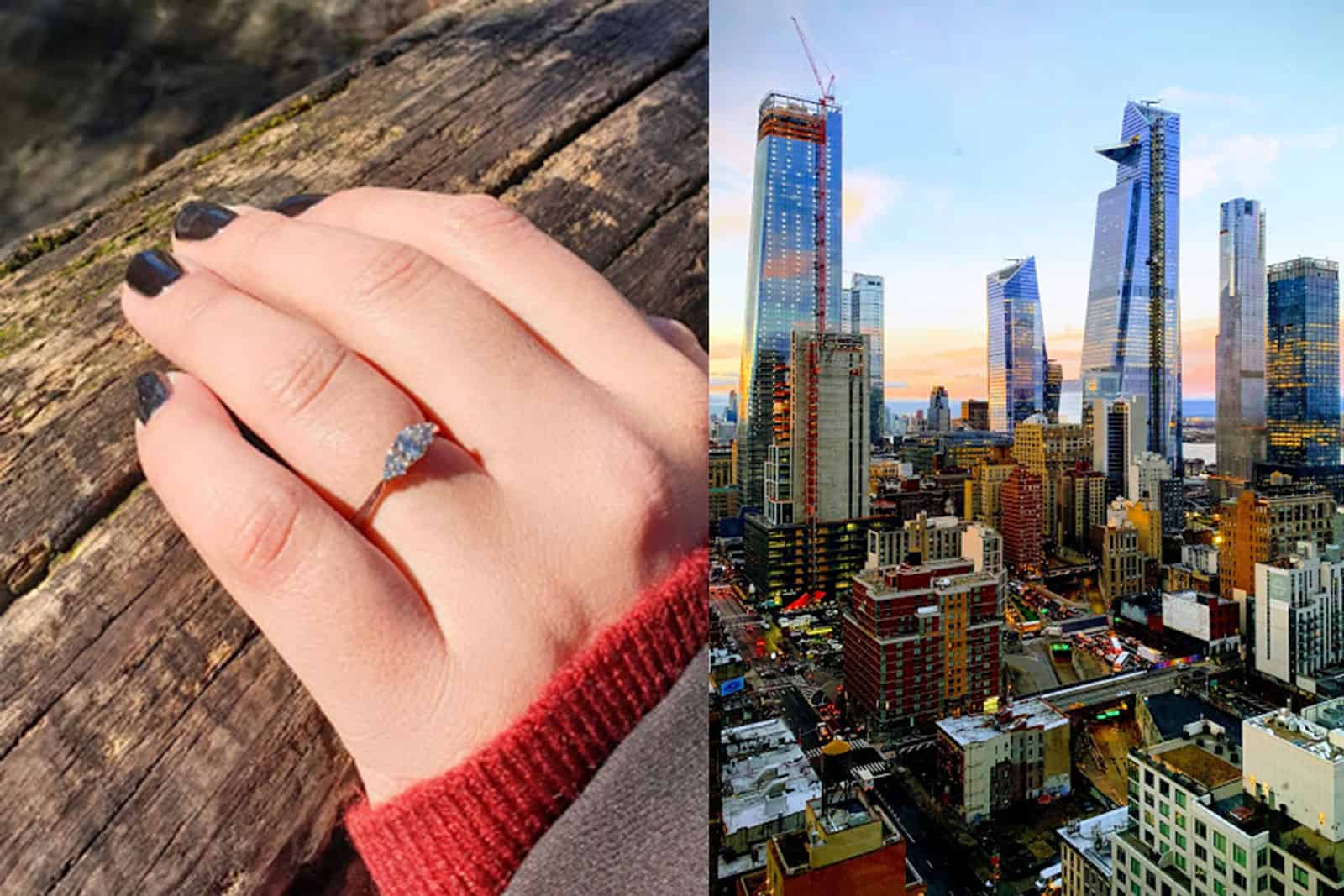 The planning begins
We're now planning our wedding together (sorry Jamie, I'm not letting go of control over the plans to you for anything) and love using eeek! for inspiration and suppliers.